Food
Foods you didn't think of freezing‏
Fresh produce is much tastier and better for you than frozen, dried, canned or preserved otherwise. Unfortunately, sometimes we simply cannot physically eat all nature's bounty at once. Consider freezing these fruits and vegetables while they are still fresh or in season. Admittedly, the taste may suffer, however it will be great and convenient for cooking, shakes, and soups.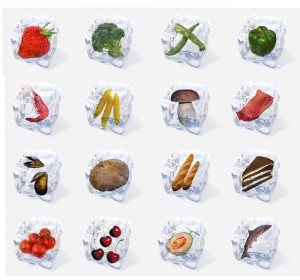 Peppers
Wash and cut green and red peppers into small cubes, freeze in a Ziploc bag, then use in soups and omelets.
Milk
If there is an excess of milk, or if you are going away, place a container in the freezer. Allow about a day to defrost in the fridge when ready to use. The taste will probably be compromised a little, but still better than having no milk in your morning coffee when you get back from a vacation!
Herbs
How many times did you buy a whole bunch of herbs, only to use it once in a dish, and let the rest go bad in the fridge? Don't waste any more parsley, dill or coriander. Wash the bunch of herbs, dry it in a salad spinner, then chop and place in a Ziploc bag or a plastic container and freeze. Frozen herbs can be used in soups and stews, just add them about 5 minutes before the dish is ready and allow to boil.
Butter
Butter is great to buy on sale, and freeze to use in baking and cooking later.
Blueberries
Frozen blueberries taste as great as fresh ones. Wash fresh blueberries in a colander and dry on a cookie sheet lined with paper towels. Wash the container that they were bough in, dry and move the clean blueberries into it. Put in the freezer and use when needed to add to cereal, or in milkshakes and pies.
Strawberries
Have you ever got carried away at the pick-you-own farm only to end up with an enormous amount of strawberries? No worries, just wash and hull them, then allow to dry on a paper towel. Line a cooking sheet with Saran wrap (to prevent them from sticking to the bottom) and place strawberries in one layer in a freezer. Freeze for a few hours or overnight, then move to a Ziploc bag. Frozen strawberries are great to use in milk shakes and in pies throughout the year.
Muffins
Many women avoid baking muffins because they feel obligated to eat the whole batch before it goes bad. Instead, freeze your muffins in a Ziploc bag. Microwaved or heated in a toaster over, frozen muffins taste same as fresh.
Cookie dough, pies and pastries
Next time you are baking, make an extra batch of dough and freeze it unbaked in a sealed package. Even better, make a whole pie and freeze it raw. When ready to bake, let it defrost in the fridge overnight, or just put it it the oven on lower temperature for the first 15-20 minutes and allow extra baking time.