Food
5 minute dinner idea: chicken and zucchini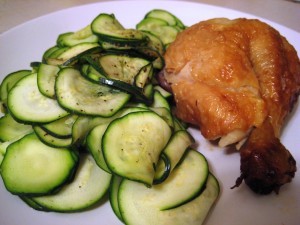 Store-bought rotisserie chicken is a life saver for busy cooks.  Serve it with microwaved zucchini for a low-carb, healthy, fast, and satisfying meal.
How to prepare zuchini:
Using a mandolin slicer, cut 2-4 zucchinis into very thin slices.
Place on a microwave-safe plate.
Add salt and pepper to taste.
Cover with another plate.
Microwave on High stetting for 5-6 minutes or until soft.
Serve as a side dish with chicken.
Note:  Rotisserie chicken can be bought in advance, cut into pieces and frozen.  Microwave when ready to serve.