Food
How to make baklava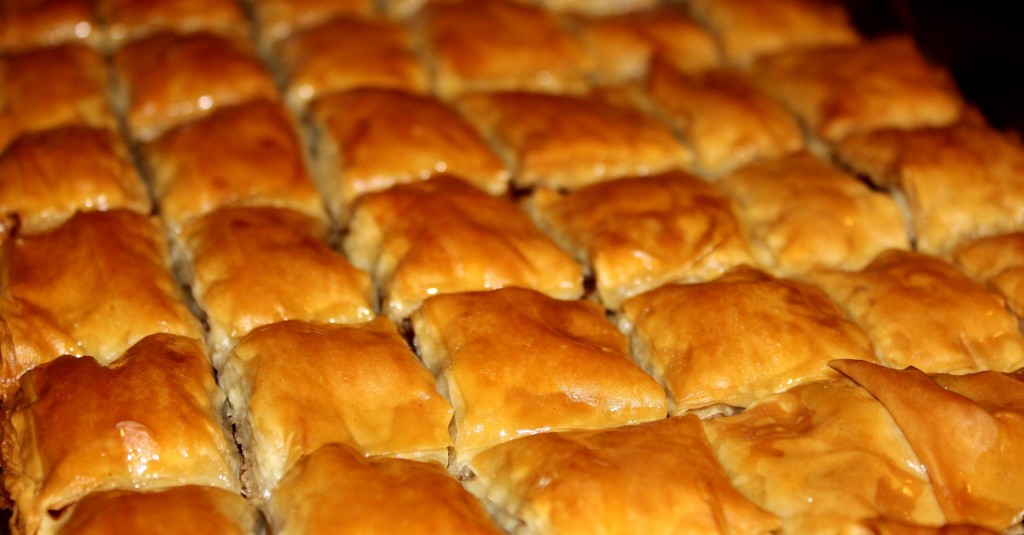 Baklava is a delicious desert which is surprisingly easy to make.  Baking is required, but there is no mixing or kneading involved.  Baklava is made with filo dough, which is readily available at your supermarket's freezer section.
You will need:
1 package filo dough
Large Pyrex glass baking pan.  Any other will work too, even disposable foil ones.
1 – 1.5 sticks of butter
1 cup sugar
Cinnamon, lemon juice
About 1 cup walnuts
A pastry brush
Preparation
1. Prepare syrup
Mix 1 cup sugar with 1 cup water and juice of 1/2 lemon (strained).  Boil for 10-15 minutes.  The syrup should not be thick.  Let cool and then put in the fridge.  The syrup can be refrigerated for 1-2 weeks.  Lemon juice will prevent sugar from crystallizing.Tip:  For crunchier baklava, make thicker syrup:  Boil sugar with water for a longer time, until thick, and add lemon juice in the end rather than in the beginning. 
2.  Melt butter
3.  Prepare walnut mix
Cut walnuts into pieces (not too small), mix with 2-3 teaspoons of sugar, 1 teaspoon cinnamon,  and 1-2 teaspoons of melted butter.
4.  Layer filo dough
If the filo dough comes in a long package, cut into 2 halves to approximately the size of the pan (doesn't have to be exactly the size).
Brush the pan with melted butter.
Layer the bottom of the pan with 2 sheets of filo dough.  If the sheets are too large, just fold the edges to fit the pan. If too small, overlap them so that they cover the pan.  Butter every other sheet, using the brush.  Make sure the edges are well buttered.
Layer 1/2 of the package of filo.  By the end, take the last 9 sheets of filo, and scrunch into balls.  Make a layer by putting balls next to each other.  Sprinkle with butter.  Put 2 more sheets on top.
Put a layer of walnut mixture.
Layer the rest of the filo sheets, buttering every other sheet.
5.  Cut
Prior to baking, cut the baklava lengthwise, and pour any remaining butter in between cuts.  Cut across into about 1.5″ x 1.5″ pieces. It can also be cut further diagonally into triangles.
6.  Bake
Bake baklava at 375 F for 20-30 minutes, until golden brown.
7.  Add syrup
Important: pour cold syrup on hot baklava (as soon as baklava is removed from the the oven).  There will be sizzling sound.
Because this desert tends to be messy, it is best to serve every individual piece in cupcake liners.
Uncooked baklava can be prepared and frozen in a baking sheet prior to baking.  Just wrap tightly in plastic wrap prior to putting in the freezer.