Homepage Slider
Graduation gift ideas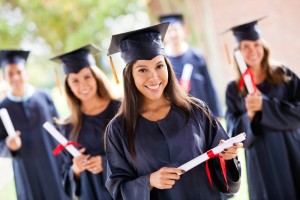 Graduation is a well-deserved reason to celebrate because it is a huge milestone in anyone's life.  Whether you have a graduate in your own family, or are invited to a graduation party, here are some gift ideas to commemorate the major achievement in their life.
Gifts under $50
Picture Frame: There is nothing more appropriate for a graduation gift than a frame, as the hard-earned new diploma needs to be framed and mounted on the wall. Even if they end up with more than one frame, there are always pictures and more degrees that will need to be framed later.
School memorabilia: Shirts, fleeces and clothing items with the school name are a great memento for a grad to remind them of their alma mater. Limited release ttems such as class ring with the graduation year will keep give them something in common with their fellow classmates. You can also give them regular jewelry that will remind of their achievement every time they wear it!
Gifts under $1,000
Gadgets: A new smart phone, computer, digital camera, or an iPad are items that young people need to continue their studies and go on with their lives. As these are more expensive items, find out what they would like and surprise them with a gift that they can keep using and enjoying.
Work clothes: Now is the time to update their wardrobe and to start applying for jobs. Any grad can use an interview suit or two. If they are your own kids, take them out shopping for work clothes, for relatives or friends a gift certificate from a department store will be greatly appreciated.
Gifts over $1,000
Car: Reward a grad who is near and dear to your heart with a new car that they can drive to their new job. This gift is a rather big financial commitment, so invest some time in researching the models together. If you want to teach them financial responsibility, you can help them out with the down payment, and figure out the payments that they can afford making themselves.
Vacation: Before they start a new job or go for further education, this is a perfect time to take a well-deserved vacation and explore the world. It is also a good opportunity to spend quality time with your kids before they sail on a life journey alone. Take them on a relaxing trip to the Caribbean, an active trip to Europe, or explore Canada together!
Related: 10 must-visit destinations in Canada
Any amount
If strapped for time and ideas, a gift of cash is always appreciated by a young person who is starting a new job, updating their work wardrobe, or moving to a new apartment and needs to buy essentials to start a new page in their life.
No matter what you choose as a present, remember that besides giving the new grad a memorable gift, it is also important to tell them that they can count on you for advice. Offer them help in finding a job, mentor them or simply be there when they need you in figuring out their future steps in life.