Food
Philadelphia Cheesecake Filling review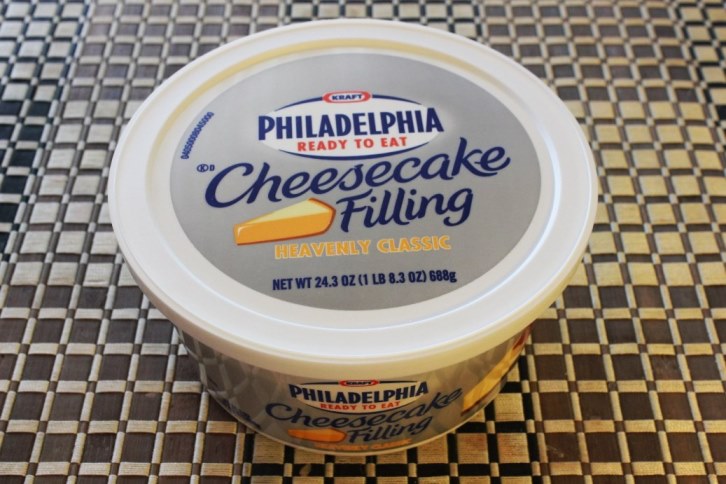 I saw this huge tub of Philadelphia Cheesecake Filling the other day at the Walmart grocery section, and couldn't resist adding it to the shopping cart. The messages "Ready to eat" and "No need to bake or set" on the package sold it to me! I am a huge fan of a cheesecake; I truly think it's an ultimate desert, but let's face it, baking a cheesecake takes time! For under $5, I felt like I could give it a try.
While shopping, I also picked up a can of cherry pie filling and a pre-made Graham cracker pie crust.
5 minute New York style Cheesecake
What can I say: whoever at Kraft Foods came up with this idea, is a genius! It literally took me 5 minutes to make a cheesecake! It was honestly the easiest dessert to make ever, and it tastes amazing, just like a real cheesecake from a cheesecake factory! You just scoop the cheesecake filling out of the package into the pie crust, even out the top, place cherry pie filling on top and it's ready. Looks and tastes great too! The cheesecake filling is fluffy, just the right taste and consistency. The cheesecake keeps shape well when cut. The cheesecake filling is not too sweet, so the sourness of the cherry pie filling compliments it well. You can taste the cream cheese. I'll be definitely buying Philadelphia cheesecake filling again.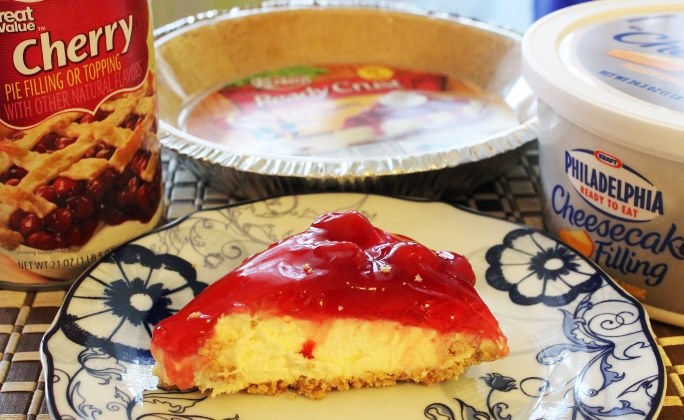 What I'll do differently next time:
I used a 9" graham cracker pie crust, and ended up with about 1/3 of a package of cheesecake filling left. I think the package would be enough for a larger cheesecake. Considering how well the cheesecake keeps shape, I might even make a cheesecake in a spring form pan with a homemade graham cracker crust in the bottom.
One problem I experienced, which has nothing to do with the cheesecake filling, was the graham crust breaking while I was spreading the filling. I will ensure to press the crust into the pan or even pre-bake it prior to adding the filling.
Next time I also want to spread a layer of sour cream on top of the cheesecake under the cherry filling. That's what my grandma's baked cheesecake recipe was calling for, and I think the sour cream will add the extra hint of sourness to the richness of the cream cheese.
The cheesecake filling has next to no flavor, so next time I'll add a few drops of cheesecake or vanilla flavoring t the filling and mix well prior to making it into the cake.
Overall, Philadelphia cheesecake filling lived up to my expectations. It turned into an amazing cake, while taking very time to make. The total cost of the 3 ingredients (cheesecake filling, pie crust, and cherry pie filling) was under $9 and was totally worth it.