Fashion
9 ways to wear white this summer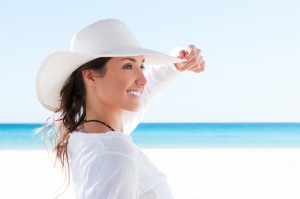 White clothes are universal, easy to match, and appropriate for wearing on both workdays and weekends. They also look good on people with any skin color and complexion. As women age, wearing white clothes make them look younger and more refreshed.
Dare to wear white this summer by following these tips:
1.  Every woman should have a pair of white pants: if bought in the right style, they will make you look great no matter what your body shape is.
2.  If you are bottom heavy, wear a bright color top with a pair of white pants to focus attention on the areas you want.
3.  If you have a pair of pretty shoes that you want people to notice, match them with a pair of white capris: a white background will make your footwear stand out.
4.  White jacket over a navy or black dress is a summer work wardrobe staple.
5.  Match white and navy clothes – it's a time-tested classic combination that never fails!
6.  If in doubt, wear white: an awesome thing about white is that it is an easy color to match with virtually any other colors, from dark, to navy, to flowery patters.
7.  Invest in a white pashmina shawl for cool summer evenings – you will also be able to wear it as a scarf year round.
8.  Remember white accessories – bracelets, belts, pearls, purses, sandals – for a refreshing summer look.
9.  The daring ones can try a white nail color – it is eye-catching and a great conversation starter!
Don't wait till Memorial day weekend anymore to start wearing white, and don't stop at Labor day – white is a great color to wear year round!