Food
Festive drinks for Cinco de Mayo celebrations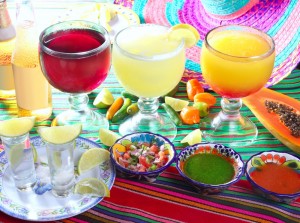 Cinco de Mayo, a regional Mexican holiday observed in the state of Puebla on the Fifth of May, has become a mainstream celebration of Mexican culture in the United States, and is gaining its popularity in Canada. Cinco de Mayo parties are held throughout North America, serving Mexican food, and of course lots of tequila!
On Friday, May 5th, celebrate Mexican culture with these festive drinks:
Tequila Sunrise
Ingredients:
1 measure tequila
3 measures orange juice
2 dashes of grenadine
This pretty drink looks like a sunrise poured into a glass because the heavier ingredient, grenadine, settles on the bottom. To make this drink, first mix tequila with ice and orange juice in a glass. Insert a spoon into the glass and carefully pour grenadine syrup between the spoon and the glass wall to guide it down straight to the bottom without mixing.
Margarita
Ingredients:
1 oz tequila
1/2 oz triple sec
margarita mix
Frozen Margarita
Mix ingredients in a blender. Dip the rim of a margarita glass in a blender, and then dip it in salt. Pour margarita in the glass.
Margarita on the rocks
Fill margarita glass with ice; add tequila and triple sec, fill the rest of the glass with margarita mix and stir.
Sangria
Ingredients:
1 Bottle of red wine
2 oranges
1 lemon
2 tablespoons of sugar
2 cans of sprite
In a pitcher, add wine, sprite, and sugar. Squeeze juice from oranges and lemon. Serve chilled or with ice.