Food
Grandma's banana bread
A dash of coffee to this classic recipe enhances the flavor and adds golden color to the banana bread. Can also use it to make banana muffins!
Ingredients
1 cup sugar (can use half of this amount if watching sugar intake)
½ vegetable shortening (can use margarine or substitute with butter)
2 eggs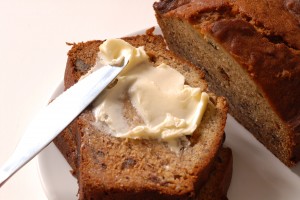 2-3 very ripe bananas
½ cup coffee (liquid), cooled
1 teaspoon baking soda
½ teaspoon salt
2 cups flour
Optional:
½ cup walnuts, chopped
½ cup raisins
½ teaspoon cinnamon
Preparation method
Step 1
With a mixer, cream together sugar, eggs and shortening.
Step 2
With a fork or a potato masher, mash bananas and add to the ingredients in Step 1.
Step 3
Mix coffee and soda in a cup.
Step 4
Mix flour and salt in a separate bowl.
Step 5
Mix all the ingredients together.
Step 6
Add chopped walnuts and raisins to the batter.
Step 7
Grease and flour the baking pan.
Pour batter into the pan.
Bake at 350 degrees for about 1 hour.
You can also use this recipe to make cupcakes!