Beauty
How to get a great haircut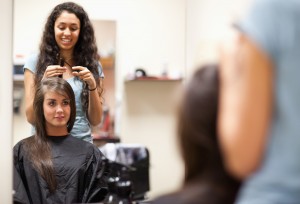 So you fell in love with this new hairdresser you found that gave you an amazing haircut. You can hardly wait for your hair to grow back again so you can have it done all over again. However, when you go back you end up extremely disappointed with the haircut which is nothing like you expected.
What went wrong?
Here are some tips from the industry pros on what to do and not to do when you are going for a haircut.
Talk to us
Don't assume the hairdresser remembers how she cut your hair previously. Many women come in and ask for exactly the same haircut as last time. However, it may have been 6 months since your last haircut, the hair has all grown, the shape has changed, and at this point there is a good chance your hairdresser is simply guessing. A good hairdresser will ask you specific questions about how long you want your hair, your layers and your bangs. Otherwise, don't be shy and communicate your desires.
Bring pictures
A picture is worth a thousand words. Sure, they are all airbrushed, and a dozen stylists worked on the movie star before taking the cover shot, so be realistic about your expectations. However, it really helps and the stylist will have a visual representation of what you want.
Dry hair speaks volumes
Make sure you show the stylist sees your hair dry before they wash it. That way they see how you wear your hair, the way it grows, and they way it looks normally.
Be on time
Stylists operate on a busy schedule, so if you are running late, have the courtesy to call the salon and advise them. They might take another client, or spend a few extra minutes on the previous customer. Remember that when you are late for your appointment, they still have to finish on time for the next client; therefore will spend less time with you.
Keep a journal
Write down what you really like about the new haircut: the layers, bangs, etc. Some hairdressers keep a file for every customer where they write down what has been done at every visit. Even better, in the end of the appointment, ask the stylist to tell you what they have done so that next time you come over you ask for it – they'll be happy to spell it out for you.
Communicate the length
Everybody's idea of long or short hair is different. What is short for you may be too long for others. It is easier for a hairdresser to cut and shape your hair when it is at a certain length, but you may find it too short. Be specific about how long your want your haircut to be, especially if you are seeing a new stylist.
Style
It is easy to cover a bad haircut with blow-drying. Hair cut right should be falling in the right places before we even start blow-drying it. However, it is important for a stylist to style your hair, because it lets them evaluate the finished look. After styling the hair, a good stylist will make final adjustments if there are stray hairs or any other imperfections.
Call for a re-do
You don't realize how good or bad your haircut is until you wash and style it yourself a few times at home. Things happen, so before leaving, ask the stylist if you can come for a re-do if something is not right. Most good hairdresses will not charge for a re-do because they would rather see you happy with the haircut and appreciate the good referrals.