Beauty
How to dye hair with henna
Henna is an all natural hair dye that has been used by women in the Middle East and South-East Asia for thousands of years. These days it is gaining popularity in the Western society among women who are looking for natural beauty solutions. The dye is made from ground dried leaves of the henna plant and gives hair semi-permanent reddish color that lasts for a while and washes off gradually. The dye does not cover grays completely; however, if used regularly, the color builds up and creates a richer deeper color on longer hair.
Who should use henna?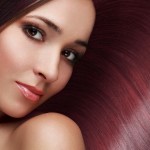 Henna comes in only one color – red. Any other colors indicated on the packaging means that there are other ingredients added to the product, either natural or chemical. Because of the henna's red color, it works best on dark hair, creating a brown-reddish tint, which looks especially beautiful under bright sun.
Women with blond hair or those who have too much gray hair should avoid using henna, as it may end up looking too orange on them. Also avoid using henna if planning on bleaching or dyeing hair later with commercial products, because chemical hair dyes may interact with henna residuals in the hair.
Where to buy henna
Look for henna in the local Indian and Middle-Eastern ethnic stores. Henna powder comes in colors from bright green to light brown.  Powder for henna tattoos also works great for dying hair. Look for vacuum sealed packages as they best preserve the freshness of the product. The cost of henna is very affordable, at about $1 per treatment, so a 1 kg  bag should be priced at around $10.
How to use henna
For medium to long hair you will need:
4 heaped tablespoons of henna
warm water
2 tablespoons of olive oil
2 plastic bags
2 rubber gloves
Place henna in a glass bowl and add warm tap water, a little at a time, until it reaches thick paste-like consistency. Be careful not to add too much water.
Cover and leave for about 20 minutes.
Add 2 tablespoons of olive oil and mix well.
Wet hair with water (you don't have to wash hair, unless there is too much styling product on it).
Put rubber gloves on.
Apply mixture on wet hair with both hands. Massage well to distribute it all over the hair, from roots to ends. Use a brush or a comb to ensure all the hair is covered with henna.
Cover the hair with a plastic bag (or two if necessary). Wipe off any streaks of henna from the face and the skin.
Wear a towel or a hat to keep head warm, if desired.
Leave mixture on for 1- 2 hours, depending on how dark your hair is (lighter hair will require less dying time).
Rinse the henna and wash hair with shampoo as usual.
Note: Henna may stain the bath tub; household bleach works well to remove the stains.
Henna hair treatment can be repeated once a month, or as needed. Another advantage of using henna regularly, is that it is a natural conditioner, and the olive oil will leave your hair silky soft and shiny.
Read also: