Beauty
Secrets to sexy hair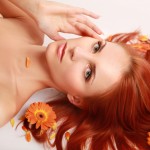 Some women are born with beautiful hair; others spend a lot of time and money to make their tresses look pretty. These easy tips will help you look beautiful without too much hassle.
Keep your hair at a medium length
Hair that is too short is easier to care for, but it doesn't look very feminine, whereas when it gets too long it becomes difficult to maintain and does not hold its shape well.
Cover your grays
Nothing screams "I am aging" louder than gray hair. You can do a quick root touch up at home or ask your stylist for help with a more radical hair color change.
Clean hair is key
Clean hair makes you look and feel clean, looks shiny and bounces well.
Use dry shampoo
No time to wash? No problem – dry shampoo will refresh your hair between washes to prevent it from feeling greasy.
Roll it in hot rollers
Invest into a hair setter to add curls, body, volume and shine that lasts the whole day. Electric hot rollers heat instantly and come in every size possible, from small to jumbo.
Haircut matters
Most importantly, start with a good haircut. No matter what product you use or how much time you spend styling, your hair will look great if it is cut right. Ask your stylist to add layers for extra volume and hair movement.