Food
Should I make my own wedding cake?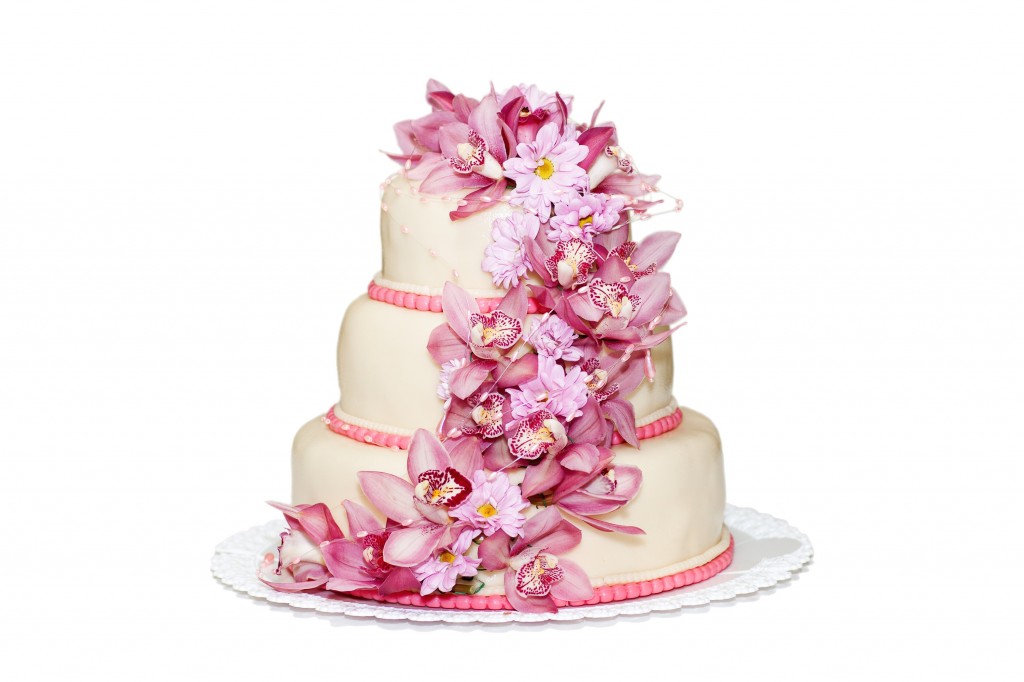 When I was planning my small wedding for about 20 guests, there was one wedding tradition that I absolutely had to have: a wedding cake. I wanted it white, tiered, and pretty. After hours and days of looking at the local bakeries websites and talking to the groceries stores, my frustration with the wedding cake industry grew: I found the costs that the bakers charged for a small wedding cake to be disproportionate to the size. Besides, the word "wedding" in front of the cake instantly triples the price for the simple sponge piece of baked dough! I hoped that the grocery store should be able to make a white cake and decorate it accordingly, but they didn't want to have anything to do with the wedding theme, probably because of the extra work and having to deal with expectations.
So, I turned to YouTube and the internet, and learned a great deal about making and decorating the wedding cakes.  And the truth is, making a wedding cake is MUCH EASIER than you think! In fact, anyone with basic baking skills can make a simple two or three tier wedding cake!
Wedding cake options:
Option 1:
Order the cake from your local bakery. Obviously, this is the easiest way, but it comes with a cost. Expect to pay at least a hundred dollars for a simple layered cake.
Option 2:
Buy a nice cake from a grocery store and put it on an elevated cake stand (I purchased my cake stand at Marshalls/Home Sense for $12.99). Decorate with fresh flowers, cake toppers, etc. If you don't have a cake stand, a plate on top of a candle holder can also be used.
Option 3:
Make your own wedding cake. Obviously, this is the most time consuming option, which can also be a lot of fun. Once I started researching the topic, I learned a great deal about cake making on the Internet, and it turned out to be very interesting, educational, and easy.
Pictured on the right is the wedding cake I made as a result of one-month long researching and practicing.  I started literally from scratch, and learned a lot in the process.
You can make a cake from scratch by using your favorite cake recipe or make the cake from an inexpensive grocery store boxed mix, such as Betty Crocker, or Duncan Hines. Honestly, the latter is my preference, because of the consistency of the recipes, quality and taste of the cake, and ease of use.
Find a baking supplies store in your area. In Toronto, I went to McCall's, because it was closest to my home, but there are others. It had cake circles, cake boxes, baking pans, decorating supplies, ready-made rolled fondant, icing mix, food coloring, flavoring, books, decorating tips, and whatever else you may need for your baking hobby.
Bulk Barn (Canadian retailer) also carries an extensive collection of baking supplies, as well as kits for making a tiered cake.
If there is no baking supplies store close to where you live, check out Wilton's website for recipes, ideas, videos, and decorating tips. They ship their products to Canada and the US. Michael's and Walmart also carry an extensive selection of Wilton products.
Use cake dummies (sold at the cake decorating supplies store) to make the tiered cake look bigger. Cake dummies are Styrofoam circles, that can serve as an additional (usually base) layer of the cake. Just decorate the dummy like you would do the rest of your cake, and put real cake layers on top of it. Cake dummies are also great for practicing  cake decorating techniques! The dummies are sold at the cake supply stores and at the Bulk Barn.
When it comes to making cakes, you can make everything from scratch, if you so desire. Conversely, you can buy all the ingredients already pre-made: fondant, icing, flowers and other decorations, and even baked frozen cakes (I ordered mine from McCall's with a one-week's advance notice). Just assemble everything together yourself any way you want it!
Watch tutorials for free on YouTube and Craftsy. At this day and age, there is no need to take a class in cake decorating, when you can watch from the comfort of your home professional chefs showing you how to make, assemble, and decorate cakes!
Here are a few video tutorials to get started with cake decorating:
How to make a simple wedding cake
How to make your own wedding cake
Other cake decorating tips:
Buy dowels (you need them for making a layered cake sturdy) at a hardware store, then cut them to desired length. I purchased one dowel at Home Depot for under a $1, enough to make a 3 tier cake!
Instead of dowels, many people use bubble tea straws
, which are thicker and sturdier than the regular drinking straws. The straws can be purchased at the bubble tea store or at the local asian supermarket (I bought mine at T&T supermarket in Toronto).
Dollar store carries a good selection of cake baking pans, spring forms, wax paper, parchment paper and other supplies for less.
Use Royal icing (made of icing sugar, water and stabilizers) to decorate the outside of the wedding cake: it doesn't taste as great as butter-cream frosting, but it is easy to pipe with a decorator bag and it holds its shape. I bought a dry mix from a store, and it turned out great!
Transport the cake layers in separate boxes to the reception venue, and then assemble them together at the site.
Cake boxes are sold at the Bulk Barn.
Wedding cakes are usually covered in fondant to give them finished, uniformed look. Rolled fondant can be bought ready-made or made from scratch (not recommended, because it is a labor-intensive method that requires investment in the ingredients). It can also be made from marshmallows quickly and inexpensively.
I learned how to make marshmallow fondant from this video:
How to make marshmallow fondant
Marshmallow fondant is very easy, cheap, and great for practicing! If the fondant gets too hard, just heat it in the microwave for 5-10 seconds.
Don't get intimidated by fondant; it is much easier to work with than you think. The biggest problem that new bakers are experiencing when working with fondant is the folds and pleats. Two tips to getting rid of the folds: roll the fondant not too thin (at least 1/4 inch thick) and, when putting it on the cake, pull and tuck.
This video will show you how to put fondant evenly on a cake (you may want to practice it on your cake dummy a few times).
Cover cake dummies with piping jelly prior to covering them with fondant to ensure it adheres to the Styrofoam.
Piping jelly is also great for attaching (gluing) decorations to the cake!
Fondant decorations stick to fondant cake easily if you wet them a bit with water.
Fondant roses are beautiful, sturdy, easy, and can be made a few days in advance. Here are a few videos on how to make chocolate and gumpaste roses. You can use the same technique for making roses out of fondant.
How to make a chocolate rose with modeling chocolate
How to make a wireless gumpaste rose
Use Swiss Meringue Buttercream, aka Buttercream 1-2-3. It's easy to make, tastes great and holds its shape well. This is my cake icing of choice.
Here is a video which explains the process of making it:
1:2:3 Swiss Meringue Buttercream!
Refrigerate the cake prior to decorating it for easy handling. Put back in the fridge after torting, crumb coating, adding icing and before covering with fondant.
After you added filling to the cake and refrigerated it, trim the sides of the cake with a knife to make them smooth.
Don't forget to trim the top of your baked cake to make it leveled.  Even better, as soon as you get the cake out of the oven, cover the cake with a wet towel and press the "muffin top" in, resulting in a flat perfect layer!
Ever wondered how professional bakers make fondant cakes with perfect sharp edges? They put chocolate ganache instead of buttercream around the cake prior to putting fondant! Ganache is firmer and keeps its shape better than buttercream.
If making homemade marshmallow fondant for decorations, don't add any corn syrup to the recipe: your fondant will be harder and the fondant decorations will hold their shape better!
If fondant tears, or doesn't go on a cake as smoothly as you'd like it to, the easiest thing to do may be to scrap it and start all over again.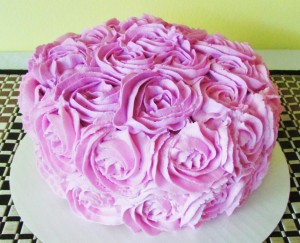 Not a fan of working with fondant?
Here is a very easy rose swirl cake decorating technique, that creates beautiful cakes. All you will need a Wilton tip and a piping bag.
Pictured on the right a cake that I made using this method, without any prior experience.
Most importantly, practice your cake decorating skills prior to making your own wedding cake! Make cakes for friends, co-workers, bridal and baby showers. Practice makes it perfect. Whatever cake you decide to make for your wedding day, have fun with it, and it will come out beautiful and will get you a lot of compliments!
Also read:
How to make marshmallow fondant
10 Things you wish you knew before the wedding
Tips for having a small budget wedding in Toronto
12 Tips for shopping for a wedding dress