Food
Quick and easy apple cake recipe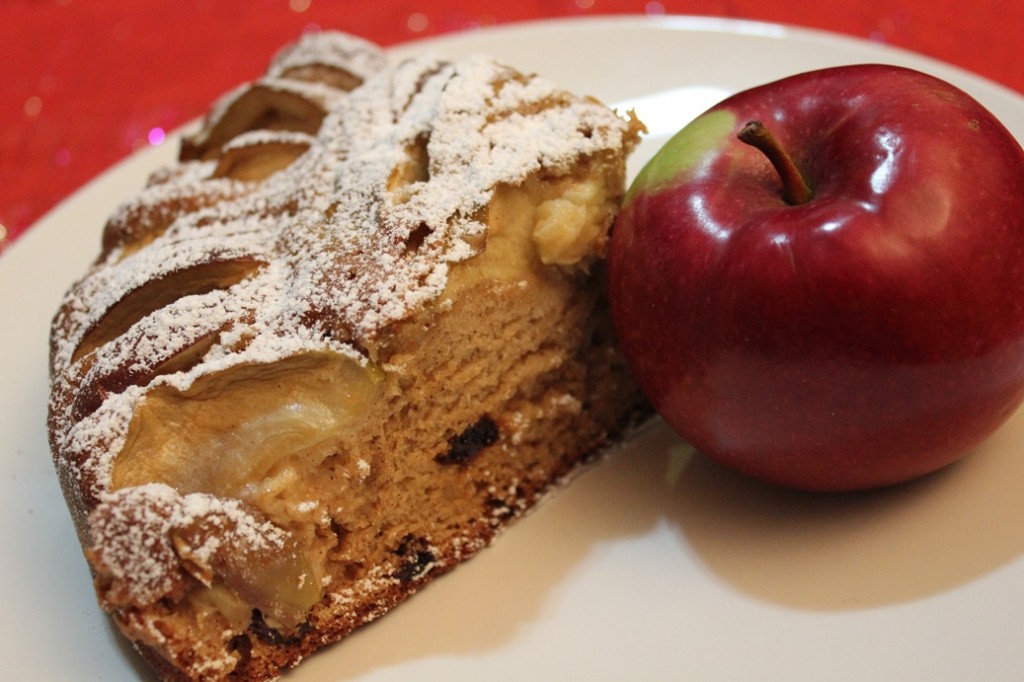 This quick and easy to make  apple cake tastes great with tea or coffee, and takes minutes to prepare: all the ingredients can be mixed together in the same bowl.  Are you having unexpected guests coming over in an hour or so?  Give it a try!
Quick and easy apple cake recipe
Ingredients:
1 cup plain yogurt or buttermilk
1 teaspoon baking soda
3/4 cup vegetable oil
2 eggs
1 cup sugar (or less if watching sugar intake)
1/2 teaspoon baking powder
1 1/2 cup flour
1 teaspoon cinnamon
4 apples (any kind, we like to use McIntosh), cored and sliced
1/2 cup raisins, soaked in water
Preparation:
1.  Preheat oven to 350 degrees.
2.  Grease and flour a 9 inch baking pan, or a 9 inch spring form.  Set aside.
3.  In a bowl, mix yogurt and soda with a mixer or with a spoon.
4.  Add eggs, oil, sugar, baking powder, cinnamon.  Mix well. Add flour.
5.  Drain raisins and add to the batter.  Mix well.
6.  Pour the batter into the baking pan.
7.  Arrange apple slices in circles on top, each slice overlapping another.
8.  Bake at 350 degrees, for 35 – 50 minutes.  The cake is done when a toothpick inserted in the middle comes out clean.
Dust with icing sugar before serving.  Apple cake can be served cold of warm – just place it in the microwave or in the oven for a few minutes.
Looking for more Fall recipes?