Homepage Slider
Cross-border shopping tips for Canadians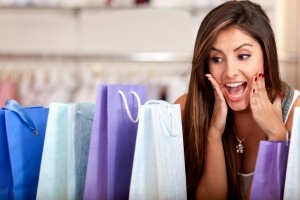 Now is a great time to go south of the border and take advantage of the strong Canadian dollar, great discounts, and excellent selections offered by the US retailers. Whether you are going to the US specifically on a shopping trip, or are stopping by the mall during your visit, follow these tips to get an even better bang for your Canadian dollar.
Stay overnight
You are taxed on all purchases if spending less than 24 hours in the US. However, if you stay for 24 hours or more, you are allowed to bring home up to CAN$200 worth of goods tax free (this does not include alcohol and tobacco), and up to CAN$800 (including alcohol and tobacco) if staying more than 48 hours.
Don't discount the discount stores and outlets
At discount stores, such as Marshall's, TJ Maxx, Big Lots, you will find the same merchandise as sold in the big department stores, but for less. They sell current season's leftovers from big stores' purchase orders, as well as last season's merchandise. Checking out their shoe selection is a must!
Print out coupons
Department stores, such as Macy's, JC Penny's, Lord and Taylor have sales practically every weekend. Go to their website and look for printable coupons and save an extra 10-25% off ticketed prices.
Shop end of season sales
January and July are great months to shop when department stores put their merchandise on clearance to free up floor space for next season's fashions. Add a coupon to this, and if lucky, you may score a bargain at up to 85% off original price!
Apply for a store credit card
If making a big purchase, open a store credit card for an additional 10-20% off discount on all purchases on the day when you open up the card. As a store credit card holder, you will be mailed store coupons and sales catalogues. It is easier than ever for Canadians to open up US store account – all that's required is a major credit card and a Social Insurance number.
Join hotel loyalty program
If visiting US often and staying overnight, it pays to stay at the same chain of hotels to accumulate points for free hotel stay nights.
Have receipts ready
On the way back stay within allowed limits, sum up the total of your purchases and have all the receipts ready to speed up the border crossing time. It is important to claim all your spending honestly to avoid delays at the border.
Personal exemptions
Effective June 1, 2012 each resident returning to Canada is entitled to one of the following personal exemptions based on his/her time absent from Canada:
24 hours: CAN$200
Not claimable if goods exceed CAN$200. Alcohol and tobacco cannot be claimed.
48 hours: CAN$800
This includes alcohol and tobacco (see table below).
7 days: CAN$800
This includes alcohol and tobacco (see table below) and unaccompanied goods.
Alcohol and tobacco exemption table
1.5 L wine or 1.14 L of liquor or 24 x 355 cans or bottles (8.5 L) of beer or ale.  (You must be legal age in the province of importation.)
200 cigarettes, 200 tobacco sticks, 50 cigars or cigarillos and 200 grams of manufactured tobacco (Special Duty may apply).
For more information, visit http://www.cbsa-asfc.gc.ca/publications/pub/bsf5056-eng.html#s2x7
Read also: