Homepage Slider
Things to do in Boston, MA
Whether you are spending a weekend, a week, or a month in Boston, you will always find plenty of things to do, in every price-range and for every budget. Here are some ideas:
Explore Boston neighborhoods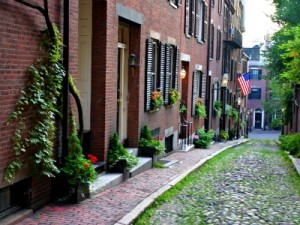 Each Boston neighborhood has its distinct personality, architecture, and demographics. Even though they are located within walking distance from one another, each one is like a different town if not country!  Back Bay is home to stately mansions, great restaurants and upscale shopping. South End has upscale restaurants and beautiful brownstone buildings, it is also where the gay population of Boston resides. North End is the Little Italy of Boston, known for great dining, as well as old churches and historic buildings. Visit Boston Waterfront for great views of the Boston Harbour, luxurious yachts, and great seafood restaurants. Beacon Hill is one of the oldest and most affluent neighborhoods in Boston, known for brick row houses with beautiful doors, antique shops, gas-lit streets and brick sidewalks.
Visit parks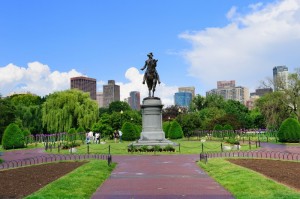 Boston Common and Public Gardens are two adjacent parks between Back Bay and the Downtown, offering an oasis of relaxation for tourists and locals alike.
Running parallel to Beacon street in the Back Bay and the Charles River, is the Esplanade – a park with magnificent views of the city, great for biking, walking and roller-blading. Take Arlington, Dartmouth, Fairfield  streets or Mass Ave for footbridges over Storrow Drive to access the Esplanade.
Visit Museums
Boston is home to world-class museum collections. Must visit museums are: Museum of Fine Arts (aka MFA), Isabella Stewart Gardner museum, and Harvard Art Museums. New England Aquarium located on the Long Wharf is an amazing collection of fish, seals, sea lions, penguins, snakes, turtles, that both adults and kids will enjoy.
Visit Faneuil Hall
It is a tourist trap, but it is still a must-visit spot every time you are in Boston! The marketplace is filled with restaurants, vendors, souvenir shops and street performers.
Walk the Freedom Trail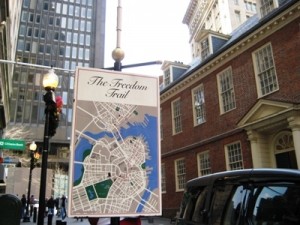 Get a free map from the Information Center on Boston Common and follow to red line that will take you to the historical sites, churches, and cemeteries around the city, and all the way to the North End and Charlestown.
Visit Harvard
Harvard University is technically located not in Boston, but in the nearby Cambridge, MA. Take a red line train to Harvard, walk around Harvard square and visit Harvard Yard.
People watch on Newbury Street
This is one of the prettiest streets in the world, with its boutique shops, patio restaurants and brownstone buildings. Dress up to see and be seen, as it's great for people watching!
See a theater production
Theater lovers enjoy great productions in the major theaters as well as the off-Broadway shows. In the summer, check out free Shakespeare on the Common plays. Visit two Bostix booths (Faneuil Hall and Back Bay) to purchase discount tickets on the day of the show.
Visit Boston Waterfront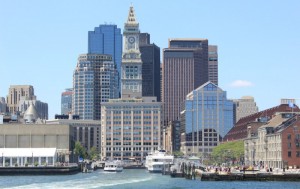 Located on the Boston Harbour, Boston has beautiful views of the water. Take the Harborwalk from Christopher Columbus Waterfront Park all the way to Northern Avenue and enjoy the views of the wharves, and the yachts coming in and out of the harbor.
Sail the Boston Harbor
There are numerous Boston Harbor tours offered by vendors on the Waterfront's Long Wharf, next to the New England Aquarium. Looking for a cheap ride? Take a 30 minute round-trip ride in an MBTA commuter T boat from Long Wharf to Charlestown and back, and enjoy amazing views of Boston skyline (the price is about $3 each way, or included in your "T" pass).
Wine and dine
Boston restaurants satisfy every taste and budget. In the summer, during Main lobsters harvesting season, look for  signs for great lobster specials. Not a lobster fan? No problem, there is also great seafood, steaks, Italian food in the North End, Asian food in Chinatown, and any other food under the sun. Make sure to try clam chowder, Boston scrod, and baked beans when you are in Beantown.
Go to the Top of the Hub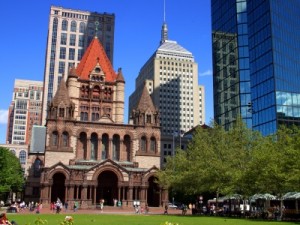 Visit the Skywalk Observatory located on the top of the Prudential building in the Back Bay for amazing 360 degree views of Greater Boston. Top of the Hub restaurant and lounge located on the 52nd floor of the same building offers amazing skyline views and dining experience. The best time to visit is at sunset, to see the light changing from day to night and the city lights start to come out.
Go Shopping
Did you know that there is no Massachusetts state sales tax on clothing items under $175? Here is another reason to shop when in Boston! Visit upscale stores in the Back Bay, such as Hermes, Tiffany, and Chanel. There are also shops at the Prudential Centre, and upscale department stores such as Saks Fifth Avenue, Neiman Marcus, Lord and Taylor.  Go to Washington Street at Downtown Crossing to shop at Macy's, TJ Maxx, Marshall's, and numerous jewelry stores.
Do a Duck Tour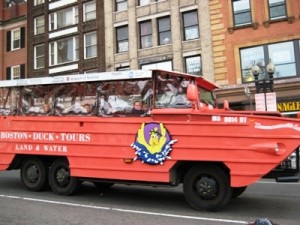 These weird looking World War II amphibious landing vehicles are cruising on the streets of Boston and swimming along into the Charles River. Each one of them has her own name, such as Beantown Betty, Penelope Pru, or Tub of the Hub to name a few. Corny as it looks, these tours are actually very popular among tourists and a great way to see most of the city sights on one tour, especially if you don't have much time to spend or are exploring alone.
Tour Boston Public Library
When visiting Back Bay, stop by the Boston Public for a free library tour, or just walk around and admire the amazing wall murals, architecture, and the courtyards with the fountains. There are also books there.
Go to a game at Fenway
There is nothing like attending a baseball game on a hot summer night in the country's oldest ball park.
Attend festivals
There is a festival in Boston almost every weekend in the summer – check for schedule to see if there are any of interest to you and also to avoid the crowds.
Tips for visiting Boston:
Check with your hotel concierge for recommendations of places to visit and how to get there, free maps, and discount coupons
Discount museum passes (as well as theater tickets) can be purchased at the Bostix booths and from various vendors
Check free publications, such as Improper Bostonian, in the street magazine boxes, for what is going on around town. There is information on concerts, museums, and theater productions, as well as restaurants listings.
Read also: Boston weekend getaway